In the contemporary business arena, technology has taken center stage, driving operations and enabling companies to maintain a competitive edge. An effective IT infrastructure is essential for ensuring smooth operations, securing company data, and providing the necessary support for growth and expansion.
However, maintaining an in-house IT department can be a costly affair, especially for small and medium-sized enterprises (SMEs). This has seen many companies, regardless of their size, turning to outsourced IT services as a viable solution.
Outsourcing IT services entails contracting a third-party provider to handle various technology-related tasks. This article explores the multiple benefits your organization can derive from working with Complete Business Systems on outsourcing its IT services.
Cost-Effectiveness:
One of the primary advantages of outsourcing IT services is the significant cost savings it brings. Maintaining an in-house IT department entails hefty expenditures such as salaries, benefits, training, and infrastructure. On the contrary, outsourcing negates the need for such expenses, allowing you to pay only for the services you require. This approach also translates to lower capital expenditure, thus freeing up funds for other crucial business aspects.
Access to Specialized Expertise:
Outsourcing IT services provides access to a vast pool of skilled professionals with specialized expertise in different areas of technology. Our experts are well-versed with the latest technological advancements, ensuring your company stays abreast of essential updates and trends. Their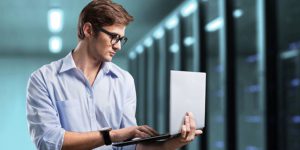 wealth of experience ensures that your business's IT needs are met efficiently, effectively, and promptly.
Focus on Core Business Operations:
With the ever-increasing competitive pressures, businesses need to concentrate on their core operations to stay ahead. Outsourcing IT services enables organizations to divert their focus and resources towards strategic goals instead of being bogged down by IT-related concerns. This not only boosts productivity but also accelerates the achievement of organizational objectives.
Improved Efficiency and Competitiveness:
Outsourcing IT services facilitates streamlined operations by ensuring that your IT systems are running optimally at all times. The efficiency gained from having a reliable IT infrastructure translates to improved competitiveness as your business can respond faster to market demands and opportunities.
Scalability and Flexibility:
The modern business landscape is dynamic, necessitating a flexible and scalable IT infrastructure. CBS offers scalable solutions that grow with your business, ensuring that you always have the necessary resources to meet your operational demands. This scalability is invaluable, especially for growing businesses that may experience fluctuating needs.
Enhanced Security and Compliance:
Security is a crucial concern for every business, and managing cyber threats requires a concerted effort. CBS is well-equipped with the latest security measures to ensure that your data and systems are protected against myriad threats. Additionally, they can help ensure that your business complies with various regulatory requirements, which is crucial for avoiding hefty fines and legal complications.
Access to Latest Technology:
Technology evolves at a rapid pace, and keeping up can be a daunting task. We invest in the latest technology, tools, and training to remain competitive. By outsourcing, you gain access to these advancements without the associated investment, ensuring that your business remains technologically relevant.
Round-the-clock IT Services Support:
The provision of 24/7 support is another significant benefit of outsourcing IT services. Whenever issues arise, you have a dedicated team ready to resolve them promptly, ensuring minimal downtime and continued business operations.
In conclusion, outsourcing IT services is a pragmatic approach for modern businesses keen on leveraging technology to enhance their operations. The cost savings, access to specialized expertise, improved focus on core operations, enhanced security, and the ability to stay updated with the latest technological advancements are compelling benefits that can drive business growth and success. Engaging with Complete Business Services can propel your organization to new heights, ensuring that you remain competitive in the increasingly digital marketplace.