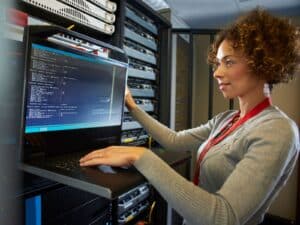 In the world of business technology, a Managed Service Provider, or MSP, is a provider of IT and Cloud-based services to businesses and organizations. The advantages of using an MSP lie within two key factors: flexibility, and scalability. An MSP is flexible in that the services they offer may vary in size and scope, depending on your exact needs, and they are scalable by virtue of being able to grow and shrink in size depending on the circumstances at your company at any given time.
An MSP can prove to be a valuable asset to your company, and can save you considerable time, money, and, most importantly, prevent a lot of headache. Join us as we walk through the key points and benefits of using an MSP for your business.
Why Should I Use an MSP?
One of the key, most crucial benefits of working with an MSP is the ability to outsource your IT tasks and responsibilities to a team of experts. This frees up internal resources and allows businesses to focus on their core competencies, rather than having to devote time and resources to maintaining and troubleshooting their IT infrastructure.
MSPs also offer a high level of expertise and experience, as their teams of certified professionals are well-versed in a variety of technologies and platforms. This means that clients can trust that their IT needs will be handled efficiently and effectively, and that any issues that arise will be quickly and expertly resolved.
Another advantage of working with an MSP is the ability to access a wide range of services and technologies. MSPs often partner with leading technology vendors to offer a variety of products and services, such as cloud-based services, data backup and recovery, and cybersecurity. This allows clients to take advantage of the latest technologies without having to invest in the infrastructure and personnel needed to support them.
Managed service providers also provide proactive monitoring, management and maintenance of IT systems, this helps to prevent downtime and minimize the risk of data breaches. They also provide a comprehensive disaster recovery plan, so in case of a disaster, they can quickly restore the system and minimize the impact of the disaster on the organization.
Save Money, Not Just Time
But the (arguably) biggest benefit of working with an MSP is the savings. It is often more cost-effective for small and medium-sized businesses to outsource IT tasks to an MSP, rather than hiring an internal IT team. MSPs often offer flexible pricing options, including monthly or annual contracts, which can help businesses better manage their IT costs.
In addition, MSPs can also provide customized IT service plans to meet the specific needs of their clients. This can include everything from basic IT support to more advanced services such as data analytics and business intelligence. This flexibility allows businesses to scale their IT services as their needs change over time.
To Wrap Up…
Managed Service Providers (MSPs) offer a wide range of IT services to businesses and organizations, which can include everything from network and server management to software and hardware support. They can provide expertise, experience, and access to the latest technologies, while also providing cost savings and customizable service plans.
By working with an MSP, businesses can outsource IT tasks and responsibilities to a team of experts, freeing up internal resources, and allowing them to focus on their core competencies. Additionally, MSPs can provide proactive monitoring, management, and maintenance of IT systems, as well as comprehensive disaster recovery plans, to minimize the impact of any IT-related issues on the organization.
An MSP may be just what you need to supercharge your tech-based operations and shave excess IT expenses off of your balance sheets. Learn more about Managed IT Services from Complete Business Systems.