If you're in the market for technology right now, you're no stranger to the fact that shortages, price hikes, and shipping delays are all the rage. With the number of places with office printers in stock declining, and the number of copiers and the like still in stock seemingly dropping by the hour, you aren't alone if you're wondering where you can buy office technology in 2022. Fortunately, you're in luck if you're still on the hunt for office printers in stock or any other office appliance. But first, let's take a closer look at what exactly is going on in the market.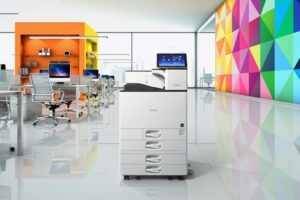 Why Is Buying Tech Such a Hassle All of a Sudden?
If it feels like buying new equipment for your office is harder, more headache-inducing than ever, it's not just you — businesses the world over are struggling to supply their offices with printers, copiers, and even basic ink. There are many individual reasons for this new phenomenon, but the single biggest factor probably won't surprise you – the COVID-19 pandemic.
The world of tech manufacturing has been hit especially hard by the pandemic. From a lack of production specialists to a lack of raw materials, getting products to market has been a challenge for most tech industries as of late. If you've heard something about a "supply chain crisis" or "chip shortage" lately, this is just one area of the market that's been affected by that crisis. And for this industry, among others, these COVID-19-induced crises and shortages aren't appearing to let up any time soon.
While these tech firms haven't completely ground their production to a halt, it's still become quite a bit harder for businesses the world over to get office printers in stock, in addition to copiers, and other office technology they need. In other words, there's a lot more scarcity than there was previously.
And with scarcity comes a whole host of issues for those looking to obtain new office equipment. From rising prices on new and used equipment, to longer shipping times and more delays, to ever more frequent "out of stock" notices when you're trying to shop around, buying new tech for your office has truly become a hassle. And we get that, and we're happy to be able to say that hope is not yet lost for you and your office.
The Best Place to Buy Office Technology in 2022
At Complete Business Systems, we are proud to announce that we have office printers in stock, office copiers in stock, and not to mention VOIP systems, multifunction copiers, every kind of ink and toner you can imagine, all in stock. Where other office technology suppliers are struggling to fill orders and meet their clients' needs, CBS has been able to keep up with demand ever since these market issues began in 2020. And we'll be able to keep on keeping our clients happy in both the immediate and more distant futures.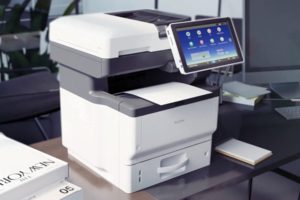 How is CBS Able to Supply Office Equipment When Other Suppliers Can't?
Going beyond our integrated, close-knit relationships with our suppliers, we at CBS have one key area that sets us apart from your standard big-box office supply store – direct partnerships with all of your favorite, most trusted brands. Our close relationship with these brands — including Microsoft, HP, Kyocera, Ricoh and many more — ensure that we have priority over others when it comes to our order fulfillment and customer satisfaction. Working with these brands directly give us a sort of VIP status, making CBS greater Denver's premier office technology supplier.
Our expansive stock of used and refurbished office printers in stock and office copiers in stock allows us to supply a greater volume of equipment, at an even wider variety of price points. If you need the top of the line for your office, we can arrange for a brand-new piece of equipment for you. or if you need something more economical, consider a refurbished item. All of these and more are, of course, in stock.